SEVEN SEVENS TO CELEBRATE THE WAY TO HEAVEN: A RESOURCE FOR LENT
$20.00 plus shipping
SEVEN SEVENS: THE E-BOOK (PDF)

$10.00
Download here (37 mb) - password will be mailed to you upon payment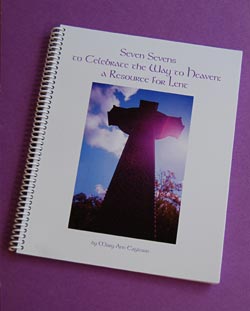 Our adult son so loved doing Advent and Easter that he said, "Mom, you have to tell other parents about this. Of all my childhood memories this is one of my favorites!" Mary Ann wrote Seven Sevens for their children when they were very young and used it for many years. The children loved doing the activities in it. It was finally published last spring.
If you are looking for a "fun" discipline for the Easter Season that is based on Scripture, try Seven Sevens to Celebrate the Way to Heaven: a Resource for Lent! The title reflects the fact that there are about 7 weeks in Lent. There is a plan for all 50 days, beginning with the Sunday before Ash Wednesday.
There are seven full weeks of devotions and activities. Each week is a different set of devotions and activities centered on a common Lenten theme: Foods, Symbols, Statements of Jesus, Animals, Crosses, Passover, and the Last Days of Jesus. This book was designed for families so they can have a ready-made schedule of simple worship and related projects, but it can be used by any person or group as a springboard for celebrating the Easter season.
As a parent, do all the activities as stated, or pick and choose those that fit your needs. Do the activity earlier in the day, and share it later in the evening for the devotional portion of the book. Pressed for time? Simply show the photo of the activity. Sunday School or midweek program teachers may want to do one activity per week during the Lenten season. Homeschool co-op and Christian school teachers can use it as well. These activities can be shared across the generations.
All activity patterns can be photocopied or printed from the company's website. They can be enjoyed by everyone from infancy through adulthood. This book has beautiful color photos and 50 public domain hymns. The spiral binding makes it very easy to use the patterns and/or follow directions as it lays flat.
PDF Downloads from the book (see the book itself for a password)
PDF Download of Hymn collection (see the book itself for a password)
If you are ordering more than one item, contact seller so shipping costs can be calculated to your benefit. The Advent Calendar always ships separately due to its weight. You may add 1-3 Noah's Arks or Mini Brewster Chests to the  Advent Calendar for the cost of these items alone, that is no extra shipping. All other items can be combined to help reduced shipping weight. Some one will get back to you as soon as possible and send you a Pay Pal invoice so your order can be processed.