AROUND THE YEAR IN 12 DAYS
$25.00 plus shipping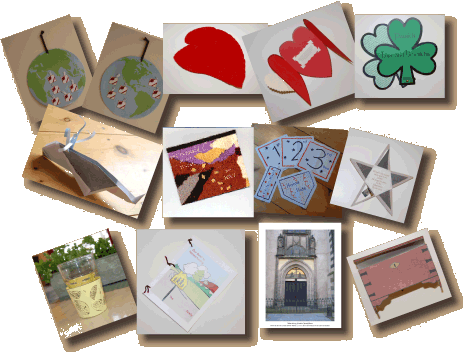 Create great memories in the Christian family with this kit of 12 activities, one for each month. Most can be done in a short amount of time. The one for December takes a few minutes each day during the 12 Days of Christmas. A parent or older child can assemble these activities with ease. Each is very basic and can be a springboard to other activities related to the topic, or simply enjoyed as presented. Each kit includes a color print of a classic piece of art related to each month's activity, a related Scripture verse for each activity, all the materials needed to make the activity, and a complete instruction manual. Each activity has it's own poly bag, so it can be easily stored away in the large poly bag that contains the entire kit. Many of these activities are enjoyed by the Eagleson family. In December, celebrate the 12 Days of Christmas with a daily calendar that helps you learn about the countries of the world. Make and win the right to wear a Wise man's cap in January. In February construct and hang a reusable valentine. Assemble a shamrock shaped book and learn about St. Patrick as March marches in. An origami whale shows up as an Easter symbol in April. May is planting season, so make a book on a parable by Jesus. June is family baseball time, and here are your bases. July turns our thoughts to our country's founding. Here is a star that hides and reveals the stars in our early national days, August is a time for lemonade, so make some and include a cup decoration to add to the celebration. Back to studies in the fall, so write up your educational history in your own memory book. October is a great time to celebrate the Reformation with a "Nail the ninety five thesis on the Castle Church door" game. November turns our thoughts to Plimoth, MA and pilgrims, so and make and explore what is in the Brewster model chest.
If you are ordering more than one item, contact seller so shipping costs can be calculated to your benefit. The Advent Calendar always ships separately due to its weight. You may add 1-3 Noah's Arks or Mini Brewster Chests to the  Advent Calendar for the cost of these items alone, that is no extra shipping. All other items can be combined to help reduced shipping weight. Some one will get back to you as soon as possible and send you a Pay Pal invoice so your order can be processed.