VENI EMMANUEL CDS
$15.95 plus shipping
Veni Emmanuel, the debut music CD from Classical Academic Press, is a collection of hauntingly beautiful carols, written centuries ago by great scholars, musicians and poets for the celebration of Christmas. Some tunes will be familiar, and some new to our 21st century ears. All in Latin, laced with theology and beautiful poetry, rediscover the rich heritage of sacred Christmas music through the ages. The collection includes carols with lyrics or music from the fifth century through 1900. Recorded with harp, piano, recorder, violin and voice.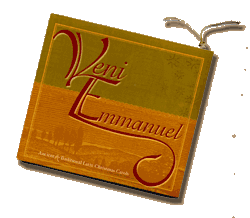 Contains 12 songs, with 40 minutes of music. Titles include: Hodie Christus Natus Est, Veni, Veni, Emmauel, Puer Natus in Bethlehem, Resonet in Laudibus, What Child is This?, Jesu Redemptor Omnium, Corde Natus ex parentes, Let All Mortal Flesh Keep Silence, Creator Alme Siderum, Adeste Fideles, In Dulci Jubilo, Flos de Radice Jesse, Hodie Christus Natus Est Reprise

The CD also includes a 16-page booklet of full Latin lyrics along with literal and poetic English translations, and short lessons to share with your family.

Hannah and Nathan Eagleson, adult children of the Tell It family, are featured on harp and keyboard respectively. In addition, Nathan contributed to the composition of many of the songs on the CD.
If you are ordering more than one item, contact seller so shipping costs can be calculated to your benefit. The Advent Calendar always ships separately due to its weight. You may add 1-3 Noah's Arks or Mini Brewster Chests to the  Advent Calendar for the cost of these items alone, that is no extra shipping. All other items can be combined to help reduced shipping weight. Some one will get back to you as soon as possible and send you a Pay Pal invoice so your order can be processed.